Technographic Targeting
September 28 2016
Galen Dow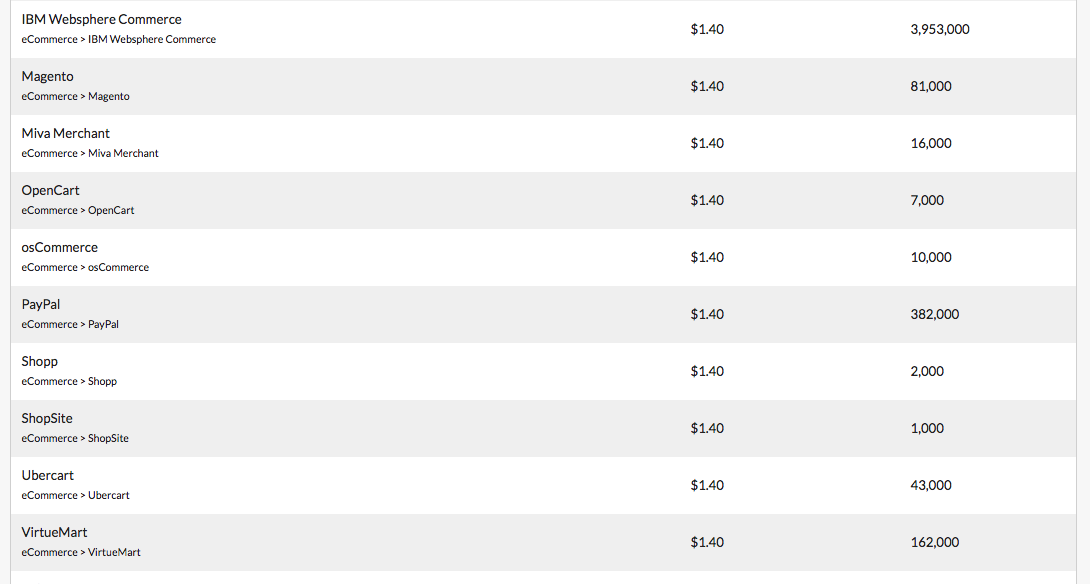 Technographic Targeting, or targeting the technology stack, is a brand new solution that AMPED Pipeline Marketing and our Technology Partners are rolling out. With Technographic Targeting, we leverage data produced by a data partner that surveys the world's websites and inventories 'what is running under the hood'. Our data partner surveys over 200 million domains and 3 billion targetable IP addresses to inventory their visible technology stacks.
Working with them, we are able to pull selected target profiles that we then integrate with programmatic buying. This solution places your content directly in front of targeted accounts who are users of brands of technology that you would like to target
We are able to produce targeted campaigns by pulling an extraordinarily broad range of externally visble targetable technologies, for instance:
Sales / CRM SaaS Solutions

Marketing Automation Platforms

eMail Marketing Software

eCommerce Platforms

Web Hosting Companies

Cloud Solutions

PaaS Providers

MSP Providers

Survey Tools

Security Apps

Anaytics & Web Performance Tools

CMS Platforms

HR / Recruitment Management Software and more
If you can see it 'running under the hood' we can find those businesses and target people who are connected to, or were recently connected to, those domains with your content.
This means that you can place selected content, by target audience, directly in front of users of competitors solutions, alternative technologies to yours such as freeware, technologies that are proxies for interest in your solutions or even your own customers.
What do we mean by 'see it running under the hood'? Using any number of tools, such as ghostery, we survey prospective customers ourselves in order to establish their existing marketing stack before we reach out to them.
A techographic profile looks like this:

Any of the brands listed above are targetable with Content Amplification.
Use Technographic Targeting for Conquest Campaigns
Let's say that you sell an eCommerce solution and want to target specific eCommerce competitors. The hero image in the header above shows datasets that are pulled for companies using specific targeted eCommerce software. Using these datasets you are able to target individuals who are coming out of the domains using these eCommerce technologies. This is an incredibly cost effective way to accelerate your demand generation.
Use Technographic Targeting in Combination with 3rd Party Datasets
Leveraging additional 3rd party data, you can also selectively target individuals within these businesses being technographically targeted such as CMOs or CFOs, Marketers or Salespeople independently. Any targetable Persona attribute such as demographic, firmographic, geographic or psychographic information is targetable to create super cost effective micro campaigns that you can continously roll new content into. This enables you to place conquest content such as BattleCard information or ROI calculators right in front of decision makers that are using competitive technologies.
Use Technographic Targeting to Reach Types of Organizations
Organizations are also targetable by domain extension, for instance .edu, .mil, .org and .gov domains are all targetable attributes. Technology Stack Targeting is a new way to look at ABM, or Account Based Marketing.
Retarget Using Technographic Targeting
As we've noted before, the days of the anonymous visitor hitting our website are over. Suppose you could retarget anonymous visitors to your site with content related to whether or not they came from a .edu or .gov domain or any other identifiable attribute of their organzation's technology stack, before they converted on your site or visited the pages related to their vertical? We can demonstrate that content engagement of your website can be significantly improved.
By combining this solution with B2B Lead Scoring algorithms, you can actually measure and report to your senior leadership the impact of your brand development efforts, by targeted accounts, through reporting on the consumption of content by domain name.
Use Technographic Targeting in Lieu of Quality CRM Data
A surprisingly large number of B2B firms don't have confidence in their own customer data. If you are working on getting your CRM data cleaned up, it's possible that you can still reach your existing customers with loyalty, upsell or next sell content. If you sell an identifiable technology, you could target companies today that are using your own software with Brand Building or Next Sell messages while you get your data house in order.